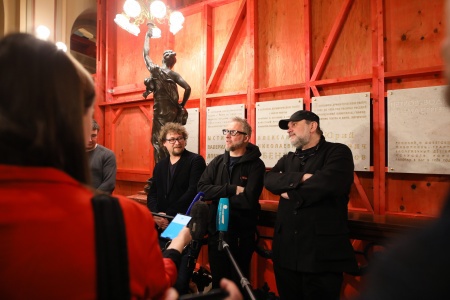 PLYWOOD THEATRE. ART THAT BREAKS BOUNDARIES
Intellectual Marathon
December 13, 2019

The State Hermitage Museum has hosted intellectual marathons since 2016. The marathon is a series of public discussions with culture and art experts that are held non-stop for several hours. The cooperation of the Hermitage, the Bolshoi Drama Theatre (BDT) and the Pro Arte Foundation expands the project and provides it with a new platform.

The discussions started on December 13, 2019, at the BDT Plywood Theatre, a conceptual architectural object created for the 100th anniversary of the Bolshoi Drama Theatre. The Plywood Theatre rethinks the space and goes beyond the boundaries of the so-called common sense, becoming a theatre within another theatre. The intellectual marathon is part of the Plywood Theater: Contemporary Art Programme in BDT, which includes performances and installation by Jan Fabre, video art shows by Bill Viola, tours of the Plywood Theatre by Gleb Ershov, an acoustic experiment called Architecton Theta by Boris Filanovsky.

The list of speakers includes:
Mikhail Piotrovsky, director of the State Hermitage Museum
Andrei Moguchy, artistic director, Bolshoi Drama Theatre
Jan Fabre, visual artist, theatre artist and author
Dmitry Ozerkov, head of Contemporary Art Department, the State Hermitage Museum
Nikita Yaveyn, architect, head of the St Petersburg Studio 44 architectural studio
Alexander Shishkin-Hokusai, artist, one of the creators of the Plywood Theatre
Irina Korina, artist, participant of the 57th Venice Biennale
and many others.

Discussion topics:
Contemporary Art and Contemporary Theatre
The position of theatres and museums in contemporary culture and art, performative practices in museums, exhibition projects in theatres, opportunities for collaboration.

Architecture and the Sacred
"There is no art more akin to mysticism than architecture," Russian 19th century author Alexander Herzen once wrote. The architecture is associated with the ritual, it is non-utilitarian and sacred. The black cubic structure of the Plywood Theatre in the BDT Greek foyer is often compared to the Japanese Kodo, the Muslim Kaaba Shrine, the Sumerian ziggurat — 'the road to heaven'. At the same time, it is a prankish architectural installation, embedded in a sacred space for many.

Myth-making in Theatre and Art
A theatre legend claims that Alexei Tolstoy, author of the Golden Key, prototyped his characters after his contemporaries. Buratino, Malvina and Pierrot are in fact writer Maxim Gorky, actress Maria Andreeva and poet Alexander Blok. In 1919, this trio founded the Bolshoi Drama Theatre. So, the BDT was built by Buratino, Malvina and Pierrot. We create our own myths, and we make sense of the myths that already exist. How does mythology and myth-making exist in theatre and contemporary art worlds?