«Studio 44. Enfilade» Exhibition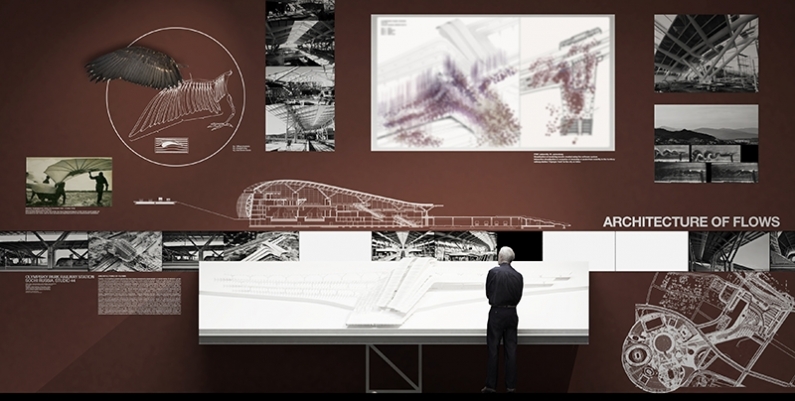 The Studio 44 Architects, a St. Petersburg architectural bureau designed the restoration and adaptation project to turn the General Staff Building's eastern wing into the State Hermitage Museum exhibition space. Sketches, 3D models, photographs will allow to trace the changes of the initial architectural concept and key decisions that shaped the interiors of the General Staff Building. The exhibition will reveal the hidden capacities of the museum space: the walls of the Grand Enfilade will be set in motion, thus changing the exhibition configuration. Hanging gardens, a never implemented plan of the original architects, will emerge in the Second Atrium, and the Fourth Atrium will host an architectural cinema hall. The multi-level eight-meter Model House will present more than 60 architectural projects by Studio 44. Diagrams and blueprints, theoretical calculations, photographs of the constructed buildings and visualization of new objects will help to understand the architects' ideas and appreciate the huge research that goes into an architectural design. The exhibition will show a retrospective of the Studio 44's work over the last 25 years, i.e. more than seventy projects and buildings. The exhibition will open in the exhibition halls and atriums of the Grand Enfilade of the General Staff Building.
Studio 44 is one of the leading architecture bureaus in St. Petersburg. Three projects by Studio 44 won at the World Architecture Festival; the studio received more than 100 Russian and international awards. The studio's portfolio includes more than 200 projects, 45 of them realized. Among their most famous projects in St. Petersburg are the restauration and reconstruction of the General Staff Building's east wing for the State Hermitage exhibition complex, and many iconic buildings including the Ladoga Railway Station and the Russian Railway Museum, campus for the Graduate School of Management of St. Petersburg State University, and the Boris Eifman Dance Academy. Restoration projects for the Alexander Palace in Pushkin (the Tsarskoye Selo Museum-Reserve), and Yu. K. Dobbert's wooden mansion, intended to accommodate the Museum of History of St. Petersburg Ballet are also well known. Major projects by the Studio 44 outside St. Petersburg include the Olympic Park Station and the Sirius Educational Centre in Sochi, the Children Arts Centre, Ballet Theatre and Kazakh National Dance Academy in Nur-Sultan (Astana), and other buildings.
The PRO ARTE Foundation is a partner of the project and organizer of the educational program ― public lectures and workshops by architects, excursions and art mediations at the exhibition.