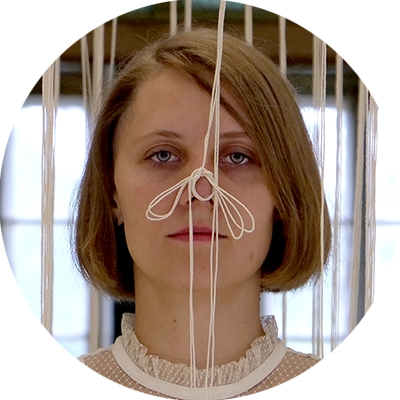 Graduate of the 2013 School for Young Artists.
"The most important thing that I understood at PRO ARTE is this: it's difficult to be confident in your ideas and concepts, it's very difficult to follow the chosen path — but it is possible. Therefore, I still weave tapestries and often feel an outsider in the art life of my native city. We had a wonderful, interesting and very diverse group, and without this period in my life I would hardly have been able to move forward. It is very difficult for me to single out any particular teacher, as they all influenced me, each in their own way. Perhaps the most important was Olesya Turkina's course on the 21st century art history, it forced me to face how limited my academic education was. The school expanded my perspective on contemporary art, provided a lot of new knowledge, taught me not only to be critical of what I see, but also showed vectors of how to understand art and love it."
Graduated from St. Petersburg Stieglitz State Art and Design Academy in 2011. Participant of the 3rd and 6th Moscow International Biennale of Young Art, 4th New Museum Triennale (New York, USA), Cite Internationale des arts residency programmes (Paris, France), 3rd and 4th Ural Industrial Biennale of Contemporary Art. Nominee for the 2013 Sergey Kuryokhin Prize. Member of the Union of Artists of Russia.