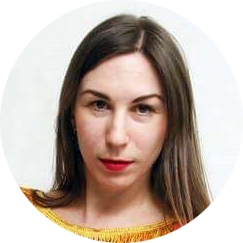 Graduate of the PRO ARTE Foundation's 2008 School for Young Artists.
"When I entered the School for Young Artists, I immediately realised that this was what I was looking for. It was a time of discoveries — access to information previously unknown, acquaintance and collaboration with active curators. I remember that for the graduate exhibition I did an installation titled My 12 Characters, and now this work is in the Kurekhin Museum's collection. We often meet with the School graduates at group exhibitions, we have done several joint works with Tanya Akhmetgalieva, Anton Khlabov, Olya Lovtsyus. I enjoy participating in other PRO ARTE Foundation programmes, for example, 2 years ago I came up with a project dedicated to freedom and its visual manifestations — what it evolved into could be seen at the 2019 edition of the Contemporary Art in a Traditional Museum Festival."
In 2007 Veronika graduated from St. Petersburg Stieglitz Art and Design Academy, the Department of Monumental and Decorative Painting. Synthesizes different genres and techniques, experiments with painting, video, and installations. Personal exhibitions have been held in St. Petersburg, Moscow, Perm, Helsinki. Participant of the 1st Moscow International Biennale for Young Art (2008, Moscow), Busan Biennale (2012, South Korea), the 2nd and 4th Ural Industrial Biennale of Contemporary Art (2012, Yekaterinburg, 2017, Nizhny Tagil), a parallel programme of the European Biennale of Contemporary Art Manifesta 10 (2014, St. Petersburg) and numerous group exhibitions.