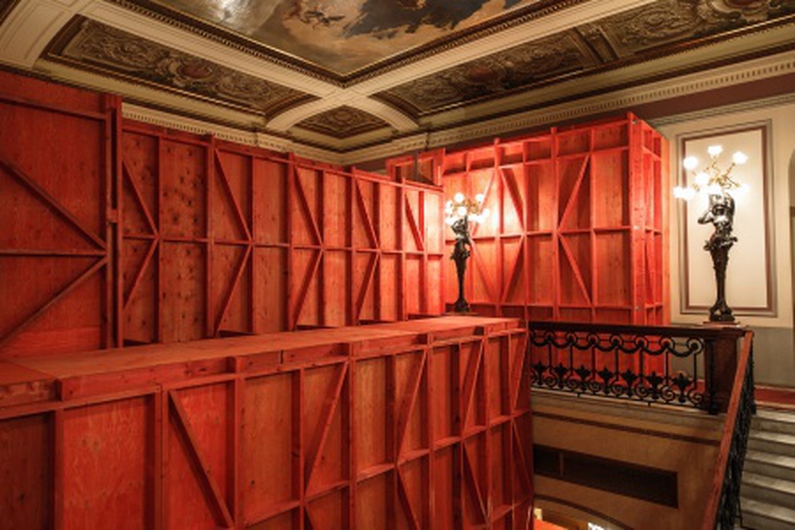 The Plywood Theatre: Contemporary Art Programme at the BDT (Bolshoi Drama Theatre)
ARKHITEKTON THETA BY BORIS FILANOVSKY
The Plywood Theatre: Contemporary Art Programme at the BDT (Bolshoi Drama Theater) is a project that completes the celebration of the Bolshoi Drama Theatre's 100th anniversary. The project is held in collaboration with the PRO ARTE Foundation for Culture and Arts, which celebrates its 20th anniversary this year.
On December 6 (10:30 PM) and 10 (10:30 PM), the Plywood Theatre will host the premiere of Arkhitekton Theta by composer Boris Filanovsky. Arkhitekton Theta is a sound sculpture for the ensemble, choir and moving listeners, created for the BDT Plywood Theatre and commissioned by the theatre and the Pro Arte Foundation. The title draws upon the cubist configuration of the Plywood Theatre, which refers to the arkhitektons of Malevich and his planits for earthlings; the Greek letter 'theta' is the first in the word θέατρον, theatre. The instrumentalists are inside the Plywood Theatre, and the choir is outside along the perimeter; all this comes together into a complex sounding body that cannot be heard entirely from one point, so listeners will have to move around the theatre space, gradually changing the acoustic focus.
"This decision is unusual: as a rule, in a spatial composition, the listener is either at the intersection of sound streams, or must move from one separate sound object to another. The uncertainty and uniqueness of the Plywood Theatre, directly related to Suprematism, suggested me this approach: it is not architecture, not engineering and not sculpture, but all at once — plus a musical instrument, due to the resonant properties of plywood. So the result can hardly be called a piece of music; here we are dealing with a certain analogue of the 'movement of pictorial planes' (Malevich), which I tried to deploy in time and sound."
Boris Filanovsky
BORIS FILANOVSKY
Graduate of the Rimsky-Korsakov St Petersburg State Conservatory (1995). Composer, musical critic, essayist, and poet. In 2000-2012, Filanovsky lead the eNsemble – the PRO ARTE Foundation's professional body performing contemporary music. Awardee and winner of the Irino Prize (Japan), IRCAM Reading Panel (France), and DAAD Berliner Künstlerprogramm (Germany).
The Plywood Theatre is a conceptual architectural object created for the BDT's 100th anniversary (by artist Alexander Shishkin-Hokusai, theatre director Andrei Moguchiy, and architect Andrei Voronov). The plywood construction invades the 19th century classical theatre and transfers the viewer back to 1919. The authors dedicate the architectural installation to Alexander Blok, BDT's first artistic director, and outstanding artists who worked in the theatre in the 1920s and 30s.
The Plywood Theatre is an installation set in BDT's main building, which functions as a real theatre and has its own stage as well as an auditorium for 30 seats.
In October 2019, the BDT Plywood Theatre received the ARCHIWOOD Award in the Art Object nomination as the best wooden architectural structure.
Details: bdt.spb.ru/фанерный-театр/fanerateatrprogramma/
12+
Activity Type : Visual Arts