Bill Viola. Three Women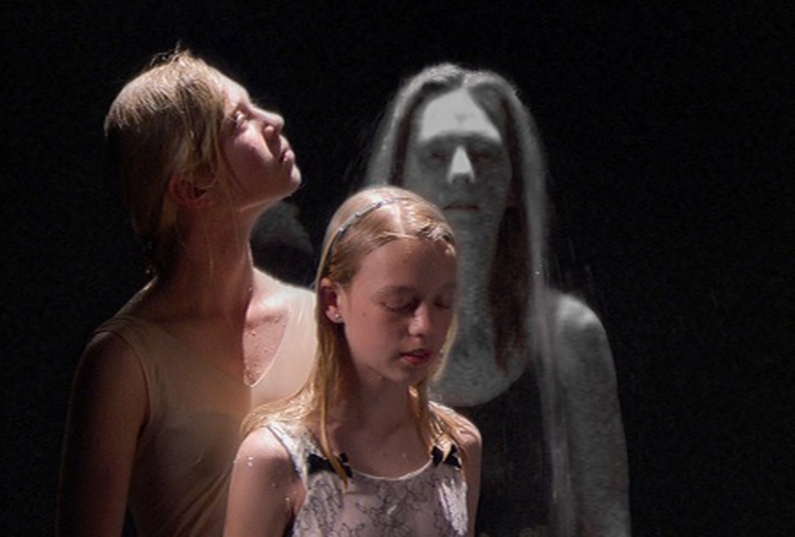 © Bill Viola Studio, Three Women, 2008
Photo: Kira Perov
The Plywood Theatre: Contemporary Art Programme at the BDT (Bolshoi Drama Theatre)
Bill Viola
Three Women, 2008
The Plywood Theatre: Contemporary Art Programme at the BDT (Bolshoi Drama Theatre) is a project that completes the celebration of the Bolshoi Drama Theatre's 100th anniversary. The project is held in collaboration with the St Petersburg PRO ARTE Foundation, which celebrates its 20th anniversary this year.
Contemporary Art Programme at the BDT Plywood Theatre will close in December with works by the world famous video artist Bill Viola, known as The Rembrandt of Video Art. Audiences will see his works from the Plywood Theatre's lodge: 'living pictures' will be projected on a large screen of the BDT Main Stage for the first time. On December 25 (9:30 PM), December 27 (3 PM), and December 29 (9:30 PM), the theatre will screen Three Women. Before each screening St Petersburg art historian Gleb Ershov will offer a guided tour around the Plywood Theatre.
THREE WOMEN
9:06 minutes
Performers: Anika, Cornelia, Helena Ballent
Courtesy of Bill Viola Studio
Three Women is part of the Transfigurations series, a group of works that reflect on the passage of time and the process by which a person's inner being is transformed. The Sufi mystic Ibn al' Arabi described life as an endless journey when he said, "The Self is an ocean without a shore. Gazing upon it has no beginning or end, in this world and the next." Three Women expresses this profound vision of the eternal nature of human life.
In the dim, ghostly gray of a darkened space, a mother and her two daughters slowly approach an invisible boundary. They pass through a wall of water at the threshold between life and death, and move into the light, transforming into living beings of flesh and blood. Soon the mother recognizes that it is time for her to return, and eventually her children slowly follow, each tempted to have one more look at the world of light before disappearing into the shimmering, gray mists of time.
BILL VIOLA
Bill Viola was born in New York in 1951 and graduated from Syracuse University in 1973. A seminal figure in the field of video art, he has been creating installations, films, sound environments, flat panel video pieces and works for concerts, opera and sacred spaces for over four decades. Viola represented the US at the Venice Biennale in 1995. Other key solo exhibitions include: Bill Viola: A 25-Year Survey, The Whitney Museum of American Art (1997); The Passions, J. Paul Getty Museum (2003); Bill Viola – Visions, ARoS, Aarhus (2005); Hatsu-Yume (First Dream), Mori Art Museum, Tokyo (2006); Bill Viola, visioni interiori, Palazzo delle Esposizioni (2008); Bill Viola, Grand Palais, Paris (2014); Bill Viola. Electronic Renaissance, Palazzo Strozzi, Florence; Bill Viola. Installations, Deichtorhallen, Hamburg; Bill Viola. Retrospective, Guggenheim Bilbao; and Bill Viola: Selected Work 1977-2014, Redtory Museum of Contemporary Art, Guangzhou, China (all 2017) ); Bill Viola: Visions of Time, SESC (Social Service of Commerce), São Paulo, Brazil (2018); Bill Viola / Michelangelo: Life, Death, Rebirth at the Royal Academy of Arts, London (2019); and Bill Viola: Mirrors of the Unseen, La Pedrera, Barcelona, Spain (2019).
In 2004, Viola created a four-hour long video for Peter Sellars' production of Wagner's Tristan und Isolde that has had many performances in the US, Canada, Europe and Japan. Viola has received numerous awards including XXI Catalonia International Prize (2009), the Praemium Imperiale from the Japan Art Association (2011), and was elected as an Honorary member to the Royal Academy, London in 2017.
KIRA PEROV
Kira Perov is Executive Director of Bill Viola Studio. She has worked closely with Bill Viola since 1979, managing, creatively guiding and assisting with the production of his video works and installations. She edits all Bill Viola publications and organizes and coordinates exhibitions of the work worldwide.
The Plywood Theatre is a conceptual architectural object created for the BDT's 100th anniversary (by artist Alexander Shishkin-Hokusai, theatre director Andrei Moguchiy, architect Andrei Voronov). The plywood construction invades the 19th century classical theatre and transfers the viewer back to 1919. The authors dedicate the architectural installation to Alexander Blok, BDT's first artistic director, and outstanding artists who worked in the theatre in the 1920s and 30s.
The Plywood Theatre is an installation set in BDT's main building, which functions as a real theatre and has its own stage as well as an auditorium for 30 seats.
In October 2019, the BDT Plywood Theatre received the ARCHIWOOD Award in the Art Object nomination as the best wooden architectural structure.
Details: bdt.spb.ru/фанерный-театр/fanerateatrprogramma/
12+
Activity Type : Visual Arts