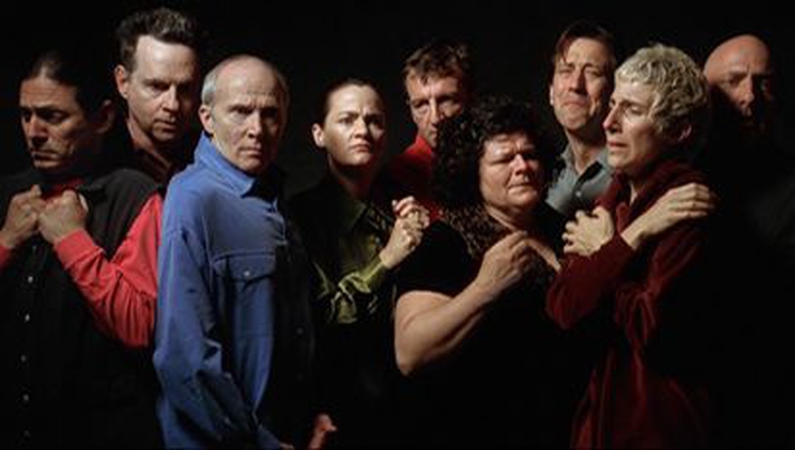 Video installation The Silent Sea by Bill Viola - now on permanent display at the Hermitage!
In 2014, the year of the 250th anniversary of the State Hermitage Museum, the PRO ARTE Foundation brought The Silent Sea by Bill Viola to be presented as a temporary installation.
Starting from 4th December, 2018, The Silent Sea is on permanent display at the General Staff Building of the State Hermitage, Hall 353. It is also the first video installation to enter the collection of the Hermitage.
This was arranged by the PRO ARTE Foundation and has been possible due to the generous support from the Vladimir Potanin Foundation. We would also like to thank Kira Perov, Director of Bill Viola Studio, for all the support and help.
The Silent Sea (2002)
Color video on flat panel mounted on wall
10:07 minutes
Performers: Weba Garretson, John Malpede, Mary Pat Gleason, Valerie Spencer, Dan Gerrity Chris Grove, David Hernandez, Tom Fitzpatrick, John Fleck
A group of nine people (three women and six men) are seen standing close together as they undergo a wave of intense emotion that threatens to overwhelm them. As the sequence begins, we see them in neutral expression, and continue to observe as the emotion, individualized to each person, comes on for the whole group and builds to an extreme level. After some minutes it finally subsides, leaving each person drained and exhausted.
The nine individuals experience the rising emotional energy independently, with little acknowledgement or direct interaction with their companions, other than occasional physical contact due to their close proximity. The group is presented against a neutral background with no suggestion of the outside world. They do not move from their original positions and no one leaves the frame. The extreme slow motion makes visible the smallest of details and subtle nuances of expression, and creates a subjective, psychological space where time is suspended for both performers and viewers alike.
Bill Viola is internationally recognized as one of today's leading artists. He has been instrumental in the establishment of video as a vital form of contemporary art, and in so doing has helped to greatly expand its scope in terms of technology, content, and historical reach. For 40 years he has created videotapes, architectural video installations, sound environments, electronic music performances, flat panel video pieces, and works for television broadcast. Viola's video installations—total environments that envelop the viewer in image and sound—employ state-of-the-art technologies and are distinguished by their precision and direct simplicity. They are shown in museums and galleries worldwide and are found in many distinguished collections. His single channel videotapes have been widely broadcast and presented cinematically, while his writings have been extensively published, and translated for international readers. Viola uses video to explore the phenomena of sense perception as an avenue to self-knowledge. His works focus on universal human experiences—birth, death, the unfolding of consciousness—and have roots in both Eastern and Western art as well as spiritual traditions, including Zen Buddhism, Islamic Sufism, and Christian mysticism. Using the inner language of subjective thoughts and collective memories, his videos communicate to a wide audience, allowing viewers to experience the work directly, and in their own personal way.
The video installation is on view at the Hall 353 of the Hermitage General Staff Building.
Opening hours:
Tuesday, Thursday, Saturday and Sunday: 10:30 - 18:00
Wednesday, Friday: 10:30 - 21:00
Closed: Mondays, 1st January and 9th May.
The entrance to the Museum is from the Palace Square.
Project: PROJECTS WITH THE HERMITAGE