Yokohama Triennale: A Vehicle to Provoke, Challenge and Shape Museum Practices for the Future. Lecture by Aki Hoashi (Japan)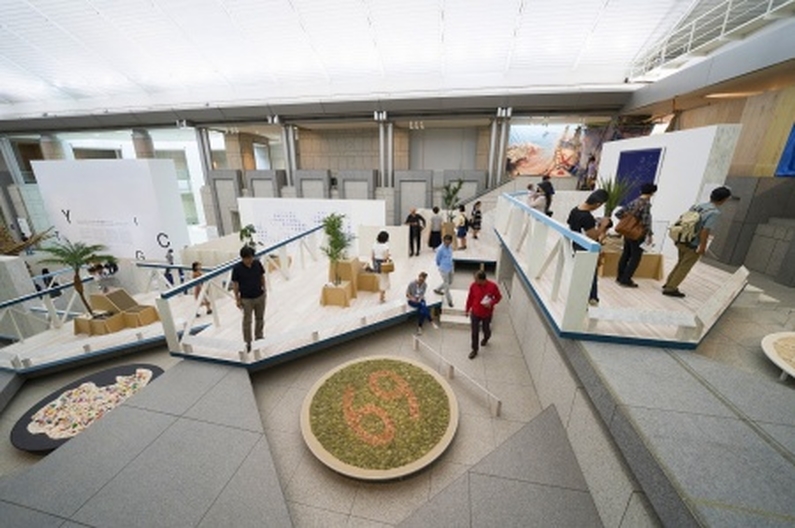 MAP Office "Island Resort", Yokohama Triennale of Contemporary Art, 2017
Photo by KATO Ken, © Organizing Committee for Yokohama Triennale
Aki Hoashi will talk about how the Yokohama Triennale, a tri-annual exhibition of contemporary art that was first inaugurated in 2001 as a Japanese government project under the initiatives of the Foreign Ministry of Japan. It has been placed under the management of the municipal government of City of Yokohama since 2010 and has relocated its office and primary site to the Yokohama Museum of Art, the city's only public art museum designed by the renowned Japanese architect Kenzo Tange.
While the Yokohama Triennale, as a maverick project that critiques institutions, challenges the museum, it is also being challenged by the museum's institutional legacy. This presentation will examine how the Yokohama Triennale has become a vehicle to provoke, challenge, and shape the city's main cultural institution through the examples of exhibition design, visitor orientation, and programming.
Aki Hoashi is a project manager at the Organizing Committee for Yokohama Triennale of Contemporary Art and a manager at the International Division & Curatorial Department of the Yokohama Museum of Art. She obtained her MA in Museum and Gallery Management from City University, London in 1994. She has worked on contemporary art projects as freelance art coordinator of Asian contemporary art projects at the Japan Foundation (1997-2010), public art commissioning project at NLI Research Institute (2000-02), and as director of the international artist-in-residence program ARCUS Project (2003-07). She has been working for the Yokohama Triennale funded by the City of Yokohama and Agency for Cultural Affairs, the government administrative body for the arts, since the 4th edition in 2011 when the Yokohama Museum of Art became one of the permanent sites. She is currently preparing for its 7th edition scheduled for 2020.
The lecture is organized by the PRO ARTE Foundation and the State Hermitage Museum and supported by the Cultural Committee of St Petersburg.
The lecture is arranged in the Educational programme of the 3rd St Petersburg Biennale of Museum Design.
---
Contacts: +7 812 233 0040, +7 812 233 0553
For press: press[at]proarte.ru
16+
Activity Type : Design
Project: PROJECTS WITH THE HERMITAGE / ST PETERSBURG BIENNALE OF MUSEUM DESIGN
Video